To get your body moving you need to fill it up with energy. Where exactly does that energy come from, and what does that mean regarding the choices we make while training for the 7 summits?   This energy comes from the chemical bonds of carbohydrates, fats and proteins contained in your food. The breakdown process of these nutrients is called "metabolism". Which nutrient your body chooses for the energy process that is requested at that moment has a major influence on the outcome.
Knowing this, how can we benefit from this? It is very interesting to see what the possibilities and benefits are when training to improve the fat burning process. We can train the muscle cells to choose fat as fuel for a longer period over the more comfortable but less efficient breakdown of carbohydrates. The breakdown of fats (lipolysis) requires a lot of oxygen, also known as the "aerobic metabolism". It is a relatively slow process, much slower than breaking down carbohydrates. Both processes result in ATP (adenosine triphosphate), the fuel for the engines in the cells. Breaking down 1 gram of fat generates more than twice the amount of energy compared to the breakdown or 1 gram of carbohydrates and is therefore the most efficient fuel for an endurance athlete.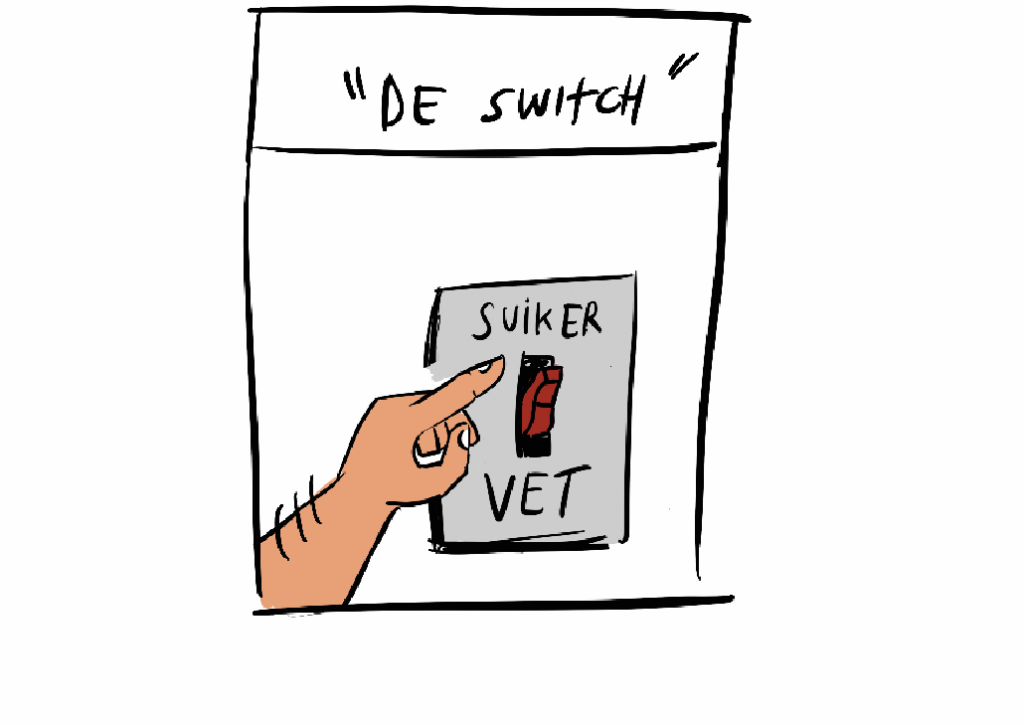 One way to train on this is by exercising in the aerobic zone and adjusting the food intake to low-carbohydrate and high-fat foods. The ultimate goal for Boris and Jur is to extract energy for longer periods from the most efficient power source in order to be able to supply energy for hours in a row during expeditions. The better and longer they can maintain the fat burning process, the faster and longer they can move up the mountain.
Training and nutrition combined
We will take a closer look at the endurance training in upcoming blogs. The most important take-away from this blog is the insight into the benefits that will occur when training and nutritional adjustments are combined for the same purpose. If we continuously train the body in the aerobic zone, without providing it with (the most comfortable fuel) carbohydrates, it must find a solution to feed this system and it will have to switch further to fats.
Are you still with us? Good! Then let's dive into it a little more …
Super training of the fat metabolism
It is only a little over 6 months before Boris and Jur will face their ultimate endurance challenge, so I decided to bring in some strong training stimulus to get the most out of the training process.
At the very beginning of their preparation, they both underwent a 10-day fast regimen combined with a daily 30-minute intensive aerobic workout. All this to get the fat metabolism going. They will repeat this twice more in the coming months.
What does the fasting program look like
This 10-day program consists of an accurate nutritional protocol in which the carbohydrates are removed step by step. On the fourth day of the program you reach a ketogenic state (the carbohydrates in the body become so low that the carbohydrate metabolism is transferred to the burning of fats). After 3 days in the ketogenic state, the protocol slowly rebuilds your eating habits to a complete diet. Afterwards you maintain the results of this very intense training by sticking to a diet low in carbohydrates and high in fat and by continuing to do your workouts in the same zone (in the aerobic zone).
Below you can see the structure of the sportsfasting cours: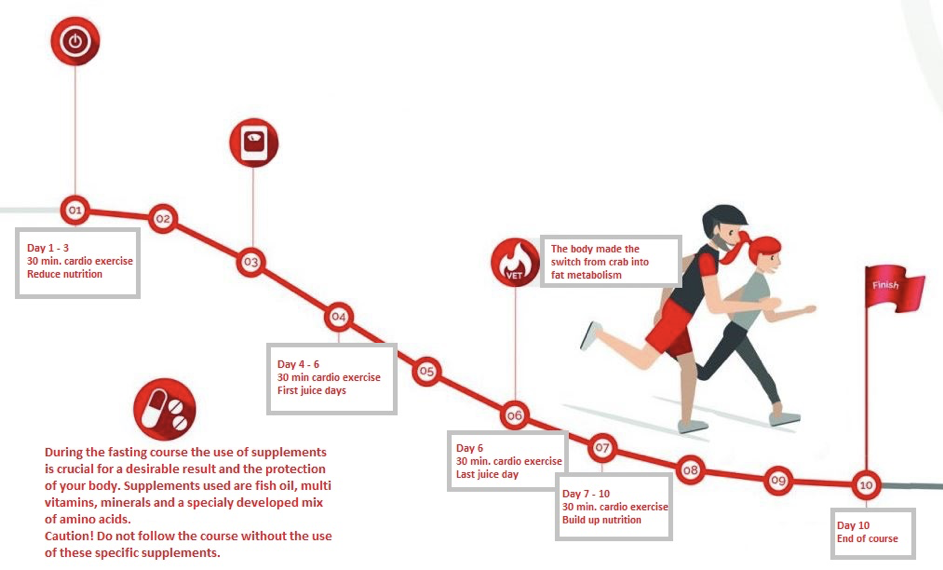 Do it yourself!
This sportfasting program is the ultimate training for every endurance athlete. It is good for everyone's health and can be followed by anyone when the overall health situation is stable. So why not try it yourself and see what it does to you? To start the course, you must be able to complete a half-hour non-stop cardio training. The only requirement is to increase the heart rate to 70% of your maximum heart rate. With this simple formula you can roughly determine your maximum heart rate:

220 – your age = HRmax (men)

226 – your age = HRmax (women)

It is not the most accurate measurement, but it gives you a good indication without burdening yourself with an extensive maximum heart rate test.

Make sure you find a certified coach to guide you through the entire process.(https://www.fittergy.nl/sportvasten-locaties/)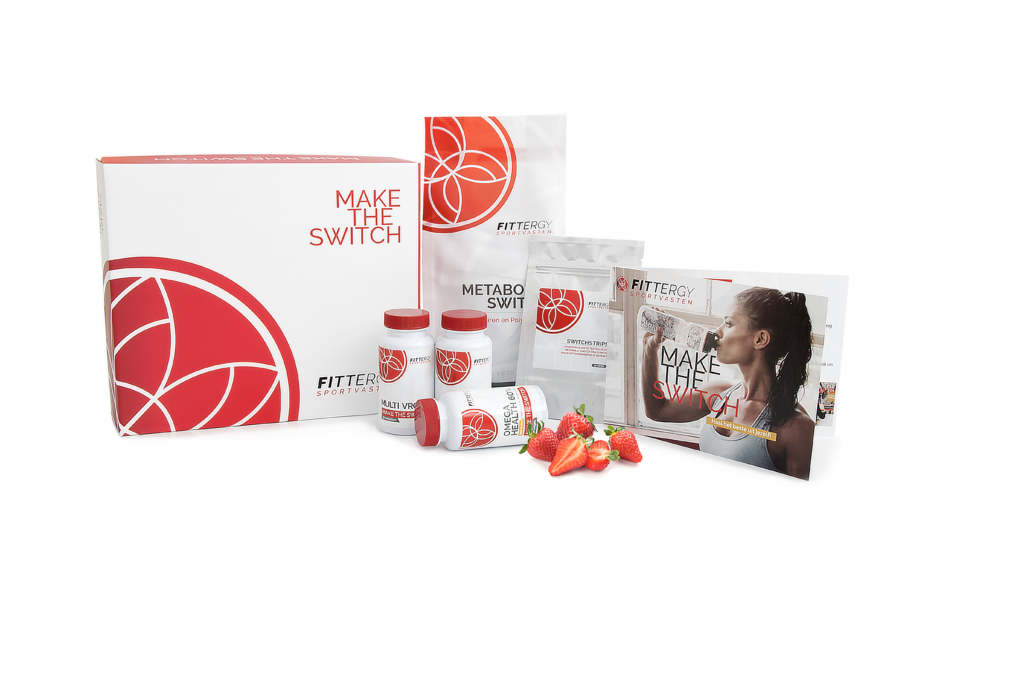 This coach gives you a personal protocol based on your situation, will guide you during the course and help you follow it up. During the sportfasting course you use an accurately composed supplementation package that promotes and supports the training. It protects your body against unnecessary breakdown of the cells and overtraining and is therefore also necessary to successfully complete the course.
Make sure you choose ten stress-free days in your agenda that you can block to start the course. You need to be able to focus on yourself during the sportfasting program, because you may need to take extra rest and you might get a little grumpy from time to time. It is smart to inform your family, friends and colleagues so that they understand and support you where possible. When you are willing to invest in it like this, you will get valuable results in return.
Other benefits are:
– 3-6 kg fat loss (men) 2-3 kg fat loss (women)
– 3-6 cm decrease in belly circumference
– Detoxification of your body
– Total rise in energy levels
– Optimization of your mindset
You can read Jur's personal experiences in the comments below. If you have become curious after reading this article and want to know what the sportfasting course can do for you, write me an e-mail ([email protected]) or write your question in the comments below and I'll be happy to tell you more about it. Have a blast!
For more information, also visit: https://www.fittergy.nl/