The best and maybe only way to train for the real stuff is to go into the mountains. Last week Boris and Jur where in Chamonix to try to find the environment and challenges they are about to face next year. These moments are great to try out new and advanced climbing skills and techniques, to get to know each other a bit better and to get their body used to making long days based on adjusted diet plans. For me as their trainer these moments are great to collect data on which I base their training and nutrition schedules. In addition to collecting data, it is important that certain things have already been done and become known before the 7summits year starts. You want the body to feel as surprised as little as possible during the 7Summits challenge. New and stressful situations cost a lot of energy and jeopardize the success of achievement. This is why I gave them some homework for practice and asked them to bring back some answers on the following topics:
Try-outs:
Practice planning nutrition intakes to cover the amount of calories needed
Train eating a large breakfast 2 hours before heading off for a long day of climbing
Experiment with different types of breakfasts to find out what is practical and fuels up the body enough to stay energized throughout the long active days (fig. 1.1)
Get better in choosing the right collection of snacks to stay energized and satisfied throughout long active days. What is preferred and how much is needed? (fig. 1.2)
Practice the rhythm of fluid intake throughout a long day of climbing (min. 200 ml per 60 min. – max 500 ml per 60 min. depending on weather circumstances) (fig. 1.3)
Experiment and learn what fluid is preferred and works best for you as an individual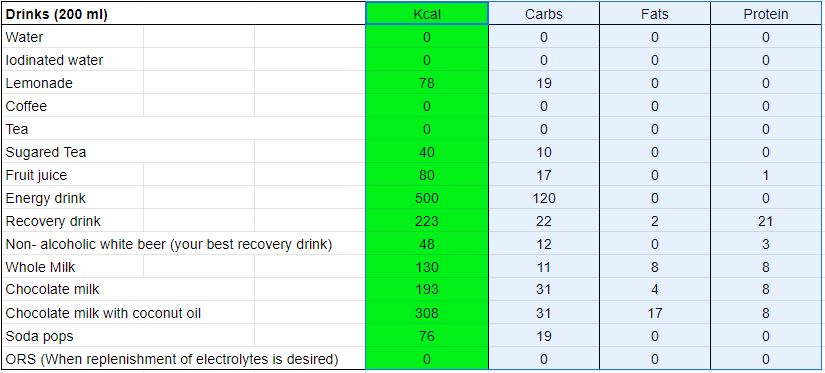 We got a little unlucky with the weather conditions. Just like with us, the temperatures climbed to bloody hot. Entering the high altitude was not an option. It is worrying but true that we also have to take into account that due to climate change these circumstances may also occur next year. So, no time is wasted but we do need to find other ways to practice certain skills before heading of to the Khan Tengri next August.
I have now given the assignments below to them to practice in a normal (home) situation:
Try to eat 6000 kcal a day on a normal day at home. This is to learn how it feels to take in that many calories and to practice what is the most convenient way of doing this for you.
Try to get used to a 500 kcal breakfast
Try out different flavours by using herbs
Try out which dried meals are your favorite and write them down or keep the packaging
Find out which 10 snacks high on carbs are your favorite
Do it yourself!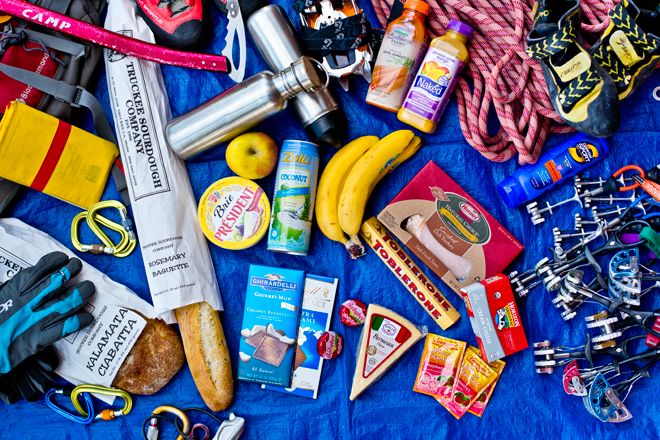 When practicing in the "real" mountains you want to have a plan. This plan is based on the actual goal you want to achieve. Take it down into pieces and decide what components are fully new to you and are needed to be practiced in advance. As mentioned before, you don't want to do things for the first time during your peak performance, this is why you want to practice even the silliest things if you've never done them before. Both in movement skills as in nutritional behaviour. To give you examples on different meal and snacks options you can get inspiration out of the figures shown above. Of course you can make your own schedules and reflect them with me if you like.
I challenge you to design your own rehearsal topics. If you like to discuss your schedule, feel free to ask your questions in the comments below or sent me an email with your schedule to; [email protected]