The goal is clear, climbing the highest peaks of all 7 continents in just 1 year. But as every journey it all starts with the first step. The road to the 7 summits in 2020 is on, and requires a solid plan. We like to take you along in this journey by describing every step of it and hopefully it will motivate you to go into the mountains yourself!
How to start?
Knowing where to go is only half of mapping your journey, to plan your course you have to start with figuring out your take-off position. It will be informative to assess your basic strengths and weaknesses by testing yourself before launching into a strength-endurance training program.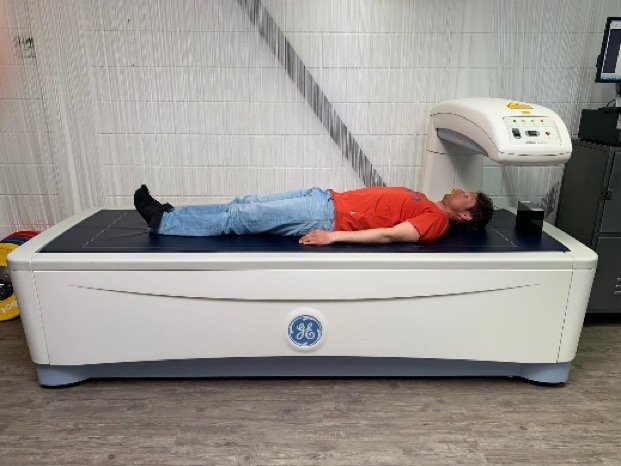 Testing
Before I started to design their training programs the guys had to undertake several tests to see in what state their bodies are. So there they went; a DEXA-scan (to measure body composition), a VO2-max test (to measure their cardio fitness and endurance capacity) and some blood tests (I will run you trough these tests in upcoming blogs).
Basic fitness test
And last along with these more complicating tests I also made them do a general fitness test to measure their basic fitness levels. While climbing the Seven Summits you face both strength as endurance challenges, so both of them we like to measure. Since Jur and Boris prepare themselves in complete different circumstances, I had to implement exercises that can be done anywhere. In the mountain hut or in your own transformed fitness basement 😉. This is an important requirement of the test because I want to let them undertake this test multiple times throughout the training program and in between climbs during the year of the 7 Summits.
So how did I determined the design of the test? The test will address basic qualities of endurance and physical strength that is needed to be a successful alpine climber. All together these exercises represent all different objectives they are going to face while doing the 7 summits. Simply said I just broke down climbing into smaller components. Doing it like this gives you a set of exercises that can be used to see where improvement is needed.
Below I show the test being used on Boris and Jur: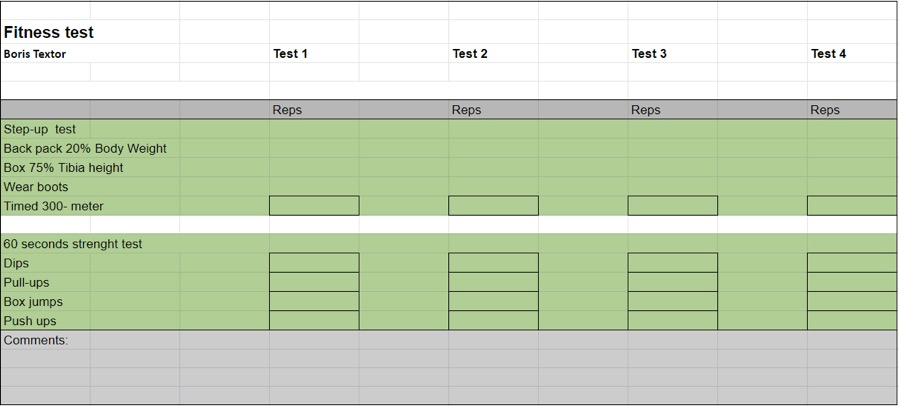 Do it yourself!
Prior to the test do a small 10-15 min. total body warm-up session that you can fill in any way you like. Make sure you warm up all your muscles in different directions and increase heart rate and breathing frequency.
Step- up test:
Start the actual test by doing the endurance step-up test. Take your backpack and fill it up to 20% of your body weight. (For example; Boris weighs 65 kg. His backpack needs to weigh 20% of this body weight so he runs the test with a backpack of 13 Kg) Use a box that is the height of 75% of your tibia and wear your alpine boots (make sure you use the same box and boots each time you do perform the test) Time 300 step-ups.
60 Seconds strength test:
The 60 seconds strength test is designed to measure particular moves and muscles needed for alpine climbing. To perform the test you count the number of repetitions you can do in 60 seconds. After completing an exercise take a 4-5 min. rest before starting the next exercise so you're not fatigued before starting a new measurement.
| | | |
| --- | --- | --- |
| Dips | Sit Ups | Pull ups |
| | | |
| Box jumps | Push ups | |
| | | |
To give you an idea of your current basic fitness level you can compare your results with the diagram below:
| | | | |
| --- | --- | --- | --- |
| | Poor | Good | Excellent |
| Step-up test 300 steps | 25+ min | 15-25 min | 0-15 min |
| Dips 60 sec | <10 | 10-30 | >30 |
| Sit ups 60 sec | <30 | 30-50 | >50 |
| Pull-ups 60 sec | <15 | 15-25 | >25 |
| Box jumps 60 sec | <30 | 30-45 | >45 |
| Push-ups 60 sec | <15 | 15-40 | >40 |
So what do think? You want to give it a try? Good luck with your own personal basic fitness test. Do not hesitate to ask questions or leave a comment behind. We are very curious how the test results came out for you! Feel free to share them with us…!