NAME:                        MOUNT VINSON OR VINSON MASSIF (4892 M / 16,049 FT)
ELEVATION:                  4,892 M (16,050 FT)
CONTINENT:                 ANTARCTICA
COUNTRY:                    West – ANTARCTICA
AREA:                          SENTINEL RANGE – ELLSWORTH MOUNTAINS
COORDINATES:             78°31'31.74"S 85°37'1.73"W
ROUTE:                        WEST SIDE
CHALLENGING:             EXTREME COLDS & WINDS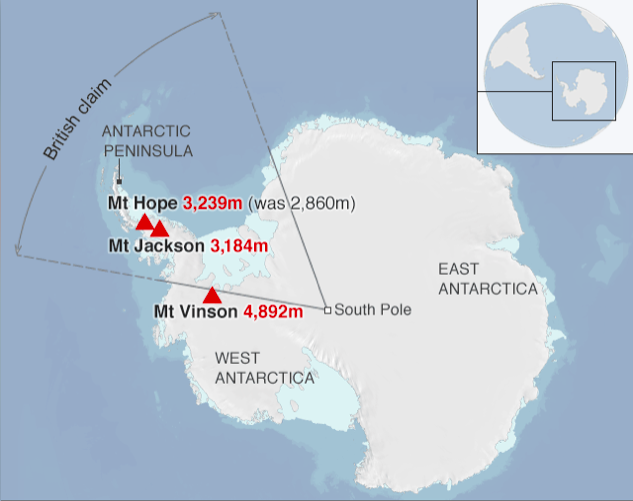 Mount Vinson (or Vinson Massif) is Antarctica's highest mountain. She reaches 4892 m (16,049 ft) and is located 1200 km (750 mi) away from the South Pole. Mount Vinson is rated "extremely strenuous" by mountaineering experts. The expedition takes place at one of the most remote locations on the planet, with little back-up assistance available in case of emergency. 
Although not the most technically challenging, climbing Mount Vinson depends largely on the weather on the day and the logistics of planning the trip.
Weather
Antarctica is the coldest place on Earth. It is like a frozen desert with little precipitation, around 10 cm (4 inches) per year on average. Temperatures can reach a minimum of between -80°C and -90°C (-112 °F and -130 °F) mid winter and vary between -30°C and +5°C (-22°F and 41°F) in summer.
The strong winds off the polar plateau often blow at storm force and can reach 300km/h (187 mph).
The best months for expeditions are December through February, this is the summer period, when the days are 24 hours long.
History of climbs
Mount Vinson was first summited in 1966 but did not become logistically accessible to the average climber until relatively recently. As of today around 1,000 climbers have succeeded Mt. Vinson, much less than Mt Everest.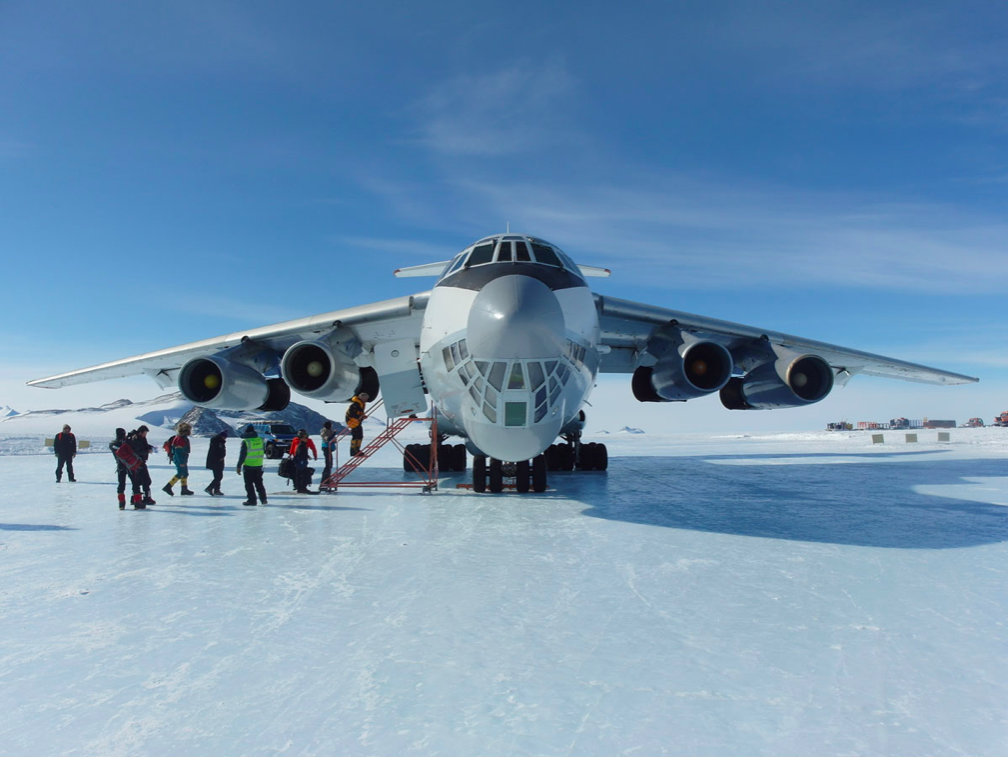 Getting there
It's a long way to Antarctica. From Punta Arenas ALE operate an Ilyushin-76 aircraft which takes around four and a half hours to reach the camp at Union Glacier, in the southern Ellsworth Mountains. It requires a ream of forms to fill out prior to the trip but once you arrive the camp has impressive dining, medical and preparation facilities.
From here there is only one way to the summit of Mount Vinson.
What to expect
Jur will probably be physically active for 8-12 hours per day for 5-9 days, with a heavy load of personal equipment to carry along which weights up to 22 kg each. Apart from the physical fitness, and stamina necessary to undertake this task, he will need significant levels of mental strength to come up against the intensity of the journey. Remarkably, there have been no deaths on the mountain. However, there have been serious cases of frostbite. Most importantly, the remoteness of the location means that serious medical attention could be many days away. This factor contributes significantly to the risk of the climb.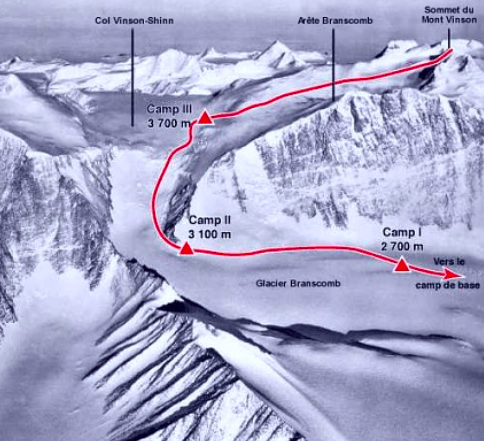 Brief itinerary of the climb
Vinson Base Camp (2,140m) is situated on the Branscomb Glacier.
Here they will find time to acclimatise and to develop a strategy to optimise the chance of a successful ascent.  After leaving Vinson Base Camp they trek up the Branscomb Glacier to Low Camp (2780m). The gradient is gentle. The hike to Low camp takes about 5 hours and they will probably pull sleds along to lighten the load of the walk. At this altitude acclimatisation is again required before heading of from Low Camp to High Camp (3,780m), which takes approximately 7 hours. For this journey, they will be carrying all of their equipment on their back. The trek continuous to the fixed ropes in less than an hour, where they start a 4-to-5 hour, 45° ascent up the snowy slopes.
After the fixed lines, there is a relatively gentle 1.5-hour hike to High Camp. The wind on this section can, however, be brutal. When you arrive at High Camp the facilities are much more basic than those of Low Camp. An extra day is generally spent at High Camp to recover from the previous day's taxing climb and to acclimatise.
Here it is time to wait for the weather forecast to predict low winds and good visibility before attempting the summit. The round trip to the summit takes around 9 to 12 hours.
Most of the route follows the gentle Vinson summit valley, with a steep icy section which leads to the rocky summit pyramid. 
The final summit pyramid will probably be approached from the western side before reaching the Summit with magnificent views of Mounts Gardner, Epperly, Shinn and Tyree as well as other peaks that rise from the snow out into the distance. They will then trace their steps back to High Camp.
While following the same path along the Branscomb Glacier back to Vinson Base Camp, we hope to celebrate our first summit with the team!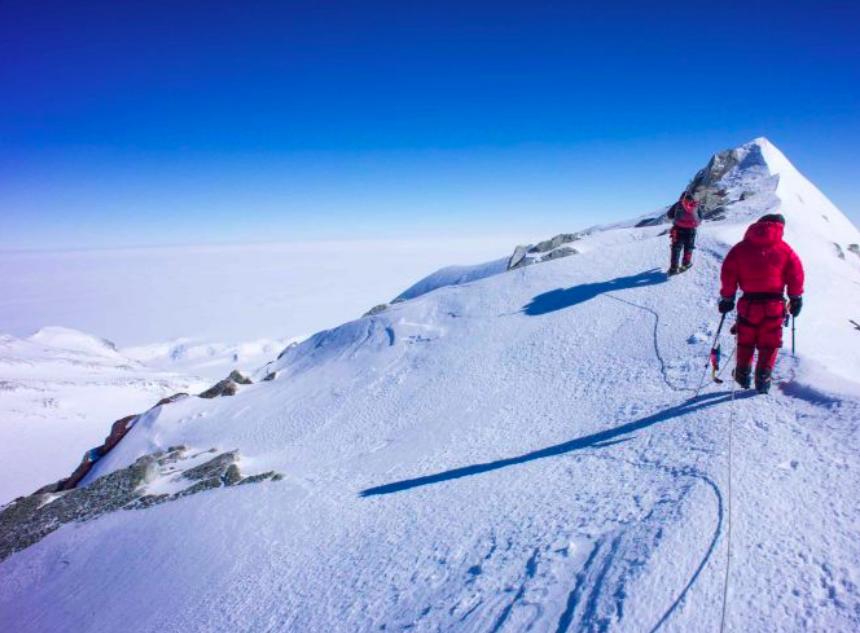 Do it yourself!
Unless you are a professional climber, the Antarctic Logistics will not approve your mission without a guide. If you are dead-set on climbing without a trained guide, you will still need to go with at least 3 other climbers with serious experience.
If you like extended information, or you like to discuss your ideas, feel free to leave a comment below or send me an email to; [email protected]